Ute Neumerkel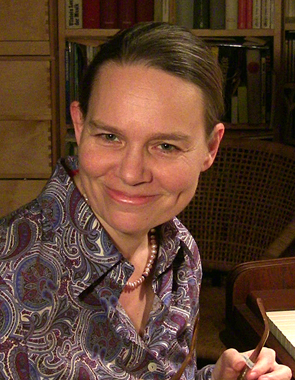 Romantic Musician

Original Film Artist

Two years: study of informatics.
Study of singing at Hochschule der Künste Berlin.
Then autodidactic unfolding of the best possible natural voice sound.
Four years: organist job.
Piano and singing teacher.
Live performances as singer
(alto and soprano), later in lied recitals with introduction as singer and accompanist at the same time.
2011 Live performance in TV.
CDs: - "Nur wer die Sehnsucht kennt..."
with songs by Beethoven, Schubert, Schumann und Brahms
romantically performed (2006)
- "Wilhelm Furtwängler - Die Lieder" (2008)
Since 2009 various film productions: commissioned works, music videos, biography films, documentaries, music visualizations.
Being a versatile artist I love to combine different fields and create a completely new synthesis:
In my singing I combine classical singing and the knowledge of new voice research and body relaxation techniques; the result is a strong, flexible und brilliant, but still unusually natural voice sound.
At my thematic lied recitals I sing and accompany myself at the piano (as many singers did in romantic times) and I introduce my audience into the music with vivid presentation.
My two lied CD productions, among them the first complete edition of Wilhelm Furtwängler's lieder, are completely produced by myself, including investigation, texts, cover and booklet design.
Of course, I also designed, programmed and translated this website...
Since 2009 I autodidactically learnt to shoot and produce films. Again I do all alone and thus can realize ideas and styles away from marketability and TV trends.